Valentine's Day parties for kids and even for adults are lots of fun. The holiday is the perfect alibi to have a good time. And is there anything better than parties for kids or grownups to have fun? Yet, a successful entertaining day needs to be planned ahead.
How to plan Valentine's Day parties for kids
Parents love to organize a gigantic festival for their little ones. And kids love nothing as much as a big gathering with their pals, eating and drinking sweet things prepared by moms. But Valentine's Day parties for kids must be seriously planned as they have to fit within the holiday theme. So here I'm going to share some tips to help you get going and not end up with forgotten things. So let's see what's crucial when planning Valentine's Day parties for kids.
Valentine's Day party invites
The very first step to take is to make a list including the potential guest names and also check if you have enough chairs and tables. Once the list is done, you can start the fun. And this means the sending of Valentine's Day party invites with an RSVP enclosed. RSVP enables you to know the exact number of guests you are going to entertain.
Stores provide you with a large range of Valentine's Day party invites for kids to choose from. You can even buy them online. Make sure to mention the day and hour the party happens and your address. Ask for a reply so that you can do your shopping according to the number of guests who answered. Here are some cute themed invitation cards for Valentine's Day parties for kids.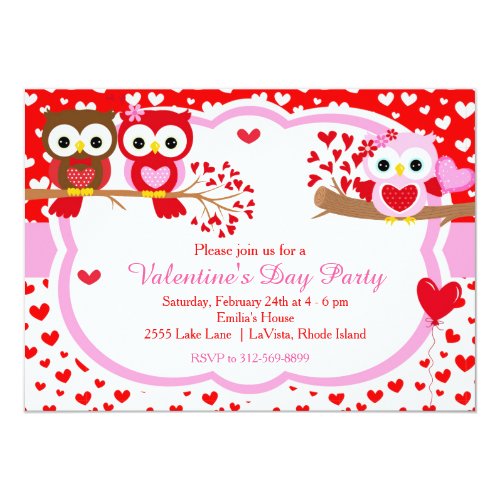 Valentines Day Party Cute Valentine Owls Card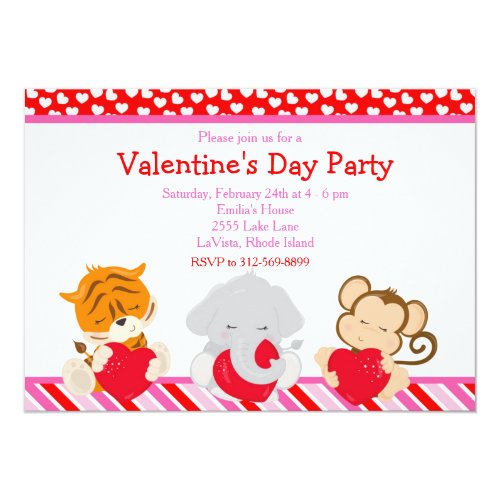 Valentine's Day Party Animals Card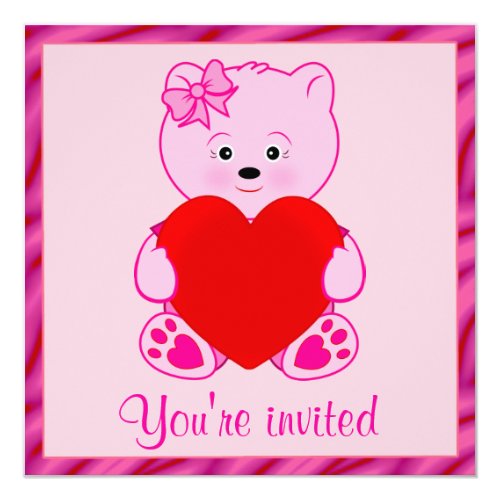 Teddy Bear with Heart Valentine's Party Card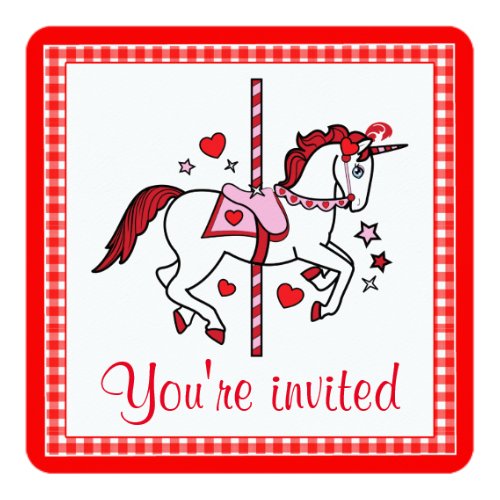 Carousel Unicorn Valentine's Day Party Card

&
Decorations for kids Valentine parties
Hosting Valentine's Day parties for kids is an excellent excuse to display those pink and red ornaments we have in the cellar or the attic. Provided that the decorations are safe for children's eyes, let your imagination guide you and be as extravagant as you wish.
Shopping malls and online stores offer a range of decorating items:
Ceiling decor with hanging hearts,
Valentine themed paper balloons,
Heart- and lip-shaped balloons,
Themed banners and signs,
Heart-shaped light sets,
Heart whirls,
Cupid and heart window clings and door covers,
Paper and metallic Valentine table centerpieces,
Heart-shaped confetti packs and many more items!
The range of ornaments is so wide. It is sometimes hard to choose only a few of them. However, do your Valentine's Day party supply shopping early so as to not find out everything has sold out.
Valentine's Day Paper Decorating Kit

Chain of Hearts Mylar Balloons

Glitter Hearts Ribbon Garland

Valentine Mini Printed Paper Lanterns

&
Plan Valentine's Day party games with a reward for the winner
Valentine's Day party games for kids can be found in any good store; including online stores (for a quick and comfortable delivery).
Here you will find a selection of Valentine's Day party games for kids and adults.
Rewarding game winners is a must. Therefore, I suggest to get some tiny toys wrapped or enclosed in a party favor box. Prizes can be as simple as possible. For example, you can have all the kids to win a little something. For the purpose, you can cut out a amount of paper hearts that will be used as coupons to "buy" food and drink after the games. The more coupons the kids have the more they can drink and eat. Make sure they do not receive too many coupons and that all kids have at least one drink and one food coupon. This will allow you to introduce the cake and drink time easily and in an entertaining way.
Paper party supplies for Valentine's Day parties for kids
You probably plan on serving some treats and beverages for the kids at the party. In which case you'll need some dinnerware that you can throw away after the party. Dinnerware and drinkware made out of paper, like paper plates and paper cups, help you to avoid the dishwash. These are also quite helpful when it comes to keep off glass or porcelain disasters.
Stores offer diverse Valentine's Day themed party kits including all the items kids will need to eat and drink. They also come in different designs and colors. Always get the party supplies that match with your party theme, though. Dinnerware and party packs are the less expensive options and come with dinner plates, paper cups, lunch napkins, and cutlery set. Others also come with plastic table cover, themed centerpiece, balloons, confetti, ribbons and streamers.
Hearts & Swirls Ultimate Party Pack

Classic Pink Paper Party Pack

Happy Valentines Day Red and Pink Party Dinnerware
Pink Trendy Valentines Party Dinnerware Set
&
Songs especially for kids set the party mood
For more entertainment, you can create a few playlists with songs that kids love. Have the CDs play when children arrive. While it is a party especially dedicated to little ones, they will love to have you singing together with them.
Valentine's Day craft activity
Once little ones are finished with the treats and drinks, you can offer them to make some Valentine's Day crafts. Craft activities enable the kids to rest after meal time and be ready for the next activities if you plan more afterwards. Kids are quickly bored, and since they love to create things and keep their hands occupied, crafts are an excellent choice.  They will enjoy making Valentine's Day decorations out of construction paper.
For example, provide them with colored construction paper, not just red, white and pink, but as many colors as possible. Some pairs of safety scissors and markers are necessary too. Ask the kids to cut Valentines silhouettes out of the paper. They can create hearts, doves, cupids, etc. Next, ask them to write a message on their crafts. Once they are done, they can give their creations to their friends or parents. Other possible crafts can be garlands and other themed decorating items, Valentine's Day cards, etc.
Valentine's Day party favors
Also, near the end of the party, make sure you planned a time for the kids to take turns whacking or pulling a Valentine's Day pinata. Stores provide pinatas in many forms and it won't be challenging to find a heart-shaped pinata pre-filled with sweets for the greatest pleasure of the kids.
Party favors and boxes are an excellent alternative to the pinata. These are popular on Valentine's Day parties for kids. So chances are that your young guests expect to leave your house with a little something. You can't just get these little gifts for a very affordable price, but you can also select the items you wish to give the little ones. The range of options is quite wide: pens, bracelets, candies necklaces, lighted candy dispensers, mini coloring books, stamps or tiny toys such as bears and bugs. Put the ones you bought in a Valentine's Day themed bag. Kids will go back home with their little treasure they will cherish for a long time.
Red Heart Pinata, Pull String
Candy Bracelet Party Favors, 10ct
36 Valentine's Day Bookmark Rulers Party Favors 3 Dozen by OTC
(36) EMOJI Silicon BRACELETS ~ 7.75" Emoticon Silicon Party Favors ~Teacher Prize
Valentine's Day Stamper Set Party Favor Giveaway (6 Pieces), Multicolor
Valentine Day 8″ Sequin Heart Headbands Party Supplies (12 pieces)
&
Watch a Valentine's Day movie with the kids
Ending Valentine's Day parties for kids with a movie is a good option. Whether after the party or at the end of the day as the kids are getting tired. To keep them focused on something else than ruining your marvelous decorations or making noise a good movie is the perfect solution. Especially if you are also hosting tonight's party for adults.
Well I think that is enough for your next Valentine's Day party for the little ones. I hope you'll have fun.
Enregistrer