How to plan the very best Valentine's Day party for single persons
Valentine's Day parties for singles are lots of fun! Do you think that Valentine us only a matter of celebrating the love we share with our significant other? Hm… while it is a romantic holidays it is also the celebration of friendship and the love we feel for our family.
There is a category of people who also would enjoy such celebrations but just can't because this holiday is not set for them. I want to talk about single people. Whatever the motive for their loneliness on this very special day, they should be allowed to celebrate just like any other people on the Planet. Singles shouldn't just have to stay at home and wait till the day fades away to get all out having fun and taking part to fun parties!
Then, if you feel left aside on Feb 14th, why don't you look into ideas for throwing Valentine's Day parties for singles?
Why throwing Valentine's Day parties for singles?
There may be many different reasons for hosting such events. For example, I was born on a date close to February 14th. And when you're born close to the date of a specific and popular holiday, you can bet that you are going to pass on to the event. Why? Because… your birthday is a couple days ahead or behind. And what about you and your feelings? So instead of skipping the occasion, once single, I decided to entertain all my single friends on that so special day.
Some years ago, when I became single, I felt so sad on the 14th of February. When I noticed that lots of my single friends would often notice that the day is only for lovers and romance. There is no place in restaurant for singles. If a night club offers champagne to people who are celebrating their birthday, they will not be able to do so on February 14 because there is no place for singles. In other words, one would often want to be born on another day: 14 days before or 14 days after the day.
That is why I decided that, Valentine or not, I'll have my birthday party. And since the day is entirely dedicated to Valentines, I'll celebrate this holiday too! How? Easy as a pie… Valentine's Day parties for singles are here to help.
Set your Valentine's Day parties for singles guest list
Think about it: throwing a party on Valentine's Day is the best way to meet new people: you invite your friends and let them know that they're allowed to invite one or more persons, who in turn will also invite their friends and let them know that they can invite on or more persons and so on. This implies that for sure, you're going to meet people you never met before. The more we are the more we enjoy a party.
So, prepare the loveliest invitation cards you'll find in any good retailer store (Zazzle provides a wonderful selection of invitation cards, see the two cards above); fill it with instructions about the number of persons they can ask to join the party and tell them they're free to send invitations too. Don't forget to tell them that the party is for SINGLES only and ask for reply so that you know the number of guests you're going to entertain.
Send your party invitation cards more or less one month before February 14th so that you make sure your potential guests are not engaged somewhere else.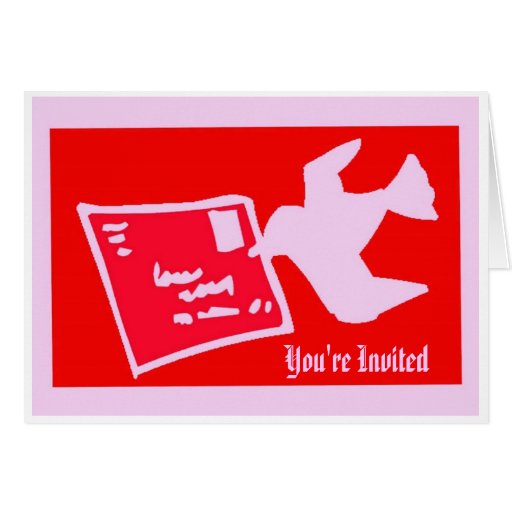 YOU'RE INVITED LETTER NOTECARD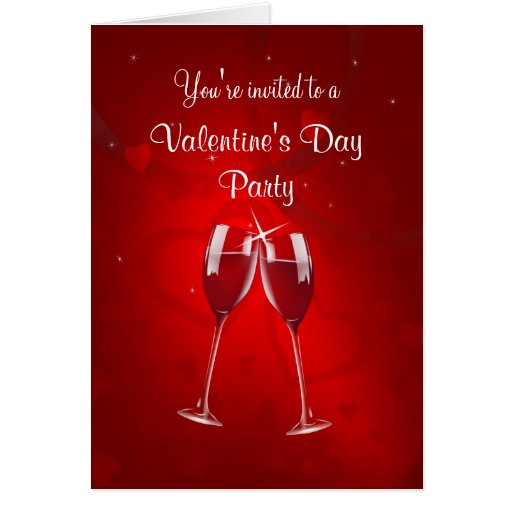 Valentine's Day Party Invitation – Greeting Card

Hearts and Flowers Invitation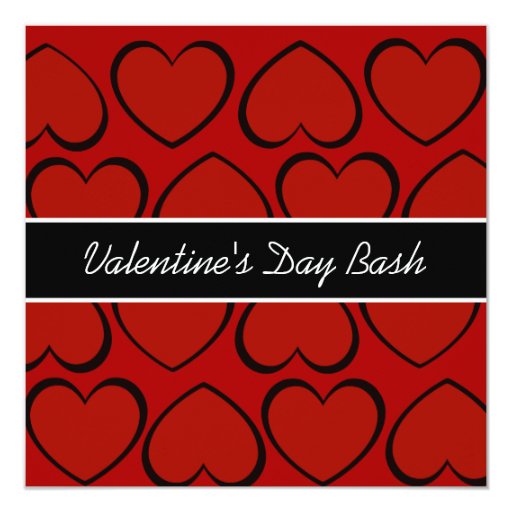 Red Black Hearts Valentines Day Party Invitations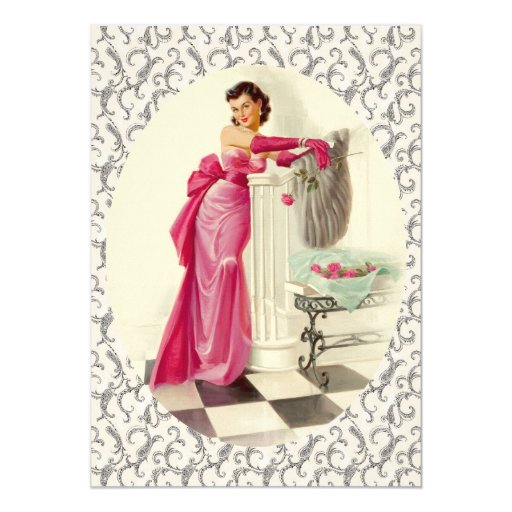 Retro 1950s Valentines Day Dinner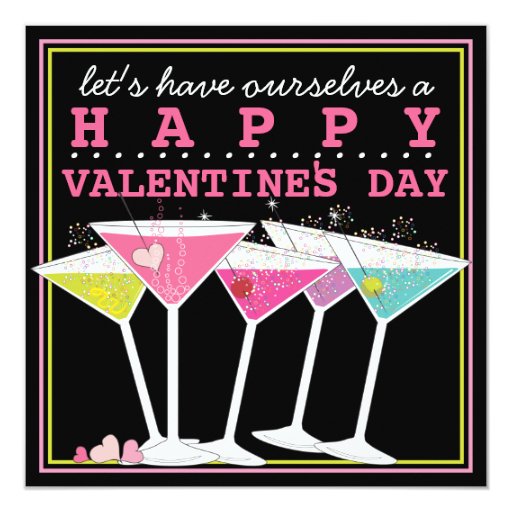 Happy Colorful Cocktails Valentines Day Party

Throw The Most Elegant Valentines Day Party Ever
Highlight the friendship side of the night
Valentine's Day parties for singles need a theme. Make decision on an entertaining but elegant party theme such as Golden Oldies, Flower Power, Salsa… Bring more fun to the party by asking your guests to wear a costume related to the theme of your Valentine's Day party.
Decorate the home with bright colors but since it's the most romantic day of the year, spread a few artificial pink or red petals on a white tablecloth, for example. Be careful: you're single so, double hearts aren't welcome. You can also add arrows, lips, cherubs, doves or any other Valentine's related decoration items. Just try to not overdo the decorations.
Here's what I do: I place curly branches in a nice red vase on which I hang a few Valentine's themed decorating items, a garland and a few Christmas lights. This makes a very nice display and the most neutral setting. Learn here how to make a Valentine love tree.
In case you have children, they are welcome to take part to the party! Since you're not celebrating the love side of this occasion, you are going to emphasize the family and friendship sides of this holiday. Have them help you to plan to party, decorate the home – make a profit to set up a crafty afternoon – and have them lend a hand in the kitchen too.
Green Floral Crafts SNOWY WHITE Birch Tips 2-2.5 Ft Tall, Pack of 15 Small Branches
Valentine Tree Ornaments – Home & Valentine's Day Decor – One Dozen
Vickerman Shiny Ball, Includes 60 Per Box, 2.4-Inch, Red
4.5″ Red Cardinal Ornament Glass
Cerise Star Wire Garland
Vickerman 50 Lights Red White Wire End Connecting Lock Set with 4-Inch Spacing and 16-Feet Length, Poly Bag w/ Header Card
Valentine's Day Sit Down Dinner or Buffet
Are you alone in charge of the party food?
The best way to throw in Valentine's Day parties for singles and have everyone, including the host or hostess to participate is to have a potluck party. So, I would strongly advise you to go for such event. If you want to prepare the meal yourself, get some easy dinner recipes.
However, I definitely recommend asking your friends to bring one or more dish from several categories like roastbeef, seafood, chicken wings, salmon, vegetables, pasta or potato salads together with a bottle of some beverage. This way, you'll only have to host the party, bake the dessert and prepare a bowl of punch and one of sangria for adults ; and one bowl of fruit juice for the kids.
Convert your dining room talbe into a supper-table. Dress it with a white table cloth and a red runner. Place a nicely crafted Valentine centerpiece made out of a rounded silver plate, on which you spread flower petals. Put a big red candle in it. Place the food on lovely serving plates and arrange them all around the table centerpiece.
Have a separate bar area somewhere in the living room so that your guests have to walk around the rooms; this will ease conversations between each others.
Here are 4 recipes for Valentine party cocktails to make:
Valentine cocktail
4 cl passion fruit liquor
4 cl pineapple juice
16 cl champagne
Mimosa drink

15 cl champagne
1 cl fresh orange juice
Kir
9 cl white wine
1 cl black-currant cream
Royal Kir
9 cl Champagne
1 cl black-currant cream
Valentine's Day party supplies made out of paper
Whenever you do not have a dish wash machine or don't own a big dinner set, buy a dinner kit made out of paper, this will avoid the task of washing the plates. Obviouly, you're free to use glasses for the drinks instead of paper gobelets, the choice is yours. Paper party supplies are the first choice when it comes to hosting a buffet party. Once the party is over, all you have to do is throw the plates and cutlery set away.
Love in the Afternoon Event Pack for 8
Red White Party Supplies
Remember to Prepare a Delightful Valentine's Day Dessert
Cookies, cupcakes, cake pops… bake Valentine's Day themed treats
Remember that I said earlier that you're going to prepare your the dessert for the party? If you do, bake some Valentine's Day cookies that you would have cut with shaped cutters such as hearts, arrows, lips, cherubs, doves…
After all, it is a romantic night… and for as long as you do not present double hearts, rings, or anything else that reminds the idea of couples and might hurt some of your guest, you're free to refer to the holiday as much as you want.
Another great idea of dessert to serve at your Valentine's Day party is cupcakes…
RM Lips Kiss Cookie Cutter for Valentines Day Baking / Party Favors
Wilton Cookie Cutter 7 Piece Metal Mini Garden
Baby Bird Cookie Cutter- Stainless Steel
Wilton 6-Cavity Silicone Heart Mold Pan
Freshware CB-305RB 12-Pack Silicone Flower Reusable Cupcake and Muffin Baking Cup, Black and Red Colors, BPA Free
Make N' Mold 0159 Dress My Cupcake Rose and Heart Minis Candy Mold
Organize a Valentine's Day Party Lottery: Everyone Will Win
Ask your guests to bring a low cost gift; which will enter the lottery pot
Coming up with creative party activities is not always easy. A first idea would be to play Valentine's Day games – these can be acquired online. Choose the games you are going to play with your guests, check out and print them out as many times as you want. You can even customize some of those printable games.
Another original idea is planning a lottery where all participants will win. It's simple to set up and will bring a lot of pleasure to all guests. Here's how to plan your lottery:
Along with the invitation card, provide your guests with a badge with their name. Make sure the design of your badge is in direct relation with your Valentine party theme. In order to make the badge more personal, draw it yourself or go to a website that would allow you to download free Valentine's Day graphics or ask the children to draw a few ones: one for women and a different one for men ; personalize the badge with a photo editor such as Photoshop or PaintDotNet (this one is free to use).
Here's how your lottery will work – after all, there's no reason for singles to not receive a gift on this day! And, cream of the crop, this is the best way to make Valentine's Day parties for singles even more entertaining.
Ask your guests to bring a low cost wrapped gift: a note pad, a mousepad, a pen, etc. Tell them to not spend more than $5 up to $10 so that you make sure everyone will bring something.
Place a big punch bowl next to the entry door so that your guests can leave their gift along with their badge. Later in the evening, you'll start the lottery. The idea is simple but fun: select one badge and one gift, give the present to the owner of the badge.
Get punch bowls or large vases, they come in handy in many ways:
Place a big punch bowl (or large vase, or pop corn container, etc.) near the entry door, and ask your guests to leave both their badge and little wrapped gift in it. You'll draw the winners later in the evening. Fill the gobelets with artificial white, pink and red petals and use them to decorate the room. Remember that all the guests are lottery winners!
12 Quart Embossed Clear Punch Bowl
8″ Square Large Glass Vase – 8 Inch Clear Cube Oversize Centerpiece
Plastic Round Crystal-Cut Serving Bowl for Salad, Punch or treats
Valentines Party for Single Musical Background
Don't play love songs!
Disco Gold
Valentine's Day parties for singles need musical mood carefully set. You're not going to create a play list with your favorite love songs like Without You, Fly me to the Moon or Don't Play that Song. Obviously, as you might have single guests that just broke up with their boy or girlfriend.
In order to not have them sad on this joyful evening, prepare a list with entertaining music like Salsa, Disco or Motown.
You can even have your guests enter a little dance contest or play a Salsa or Madison video and have them learn how to dance to the video!
Although considered sometimes as oldies, Dico tunes are the best sounds for you to dance. This type of music is very entertaining and makes the best element to a fun party. You can whether buy CDs or just go to Amazon MP3 and download them directly on your computer.
Here are a few of these tunes we all love so much and that will work very well for Valentine's Day parties for singles.
The Last Days of Disco
12 Inch Disco: The Collection
Pure Funk
Well, that's it. You're on your way to throw in the best Valentine's Day party for Singles! Have fun!
---