Sending Mother's Day cards is one of the most used way to wish mothers a happy holiday. However, many stores provide you with the exact same greeting card designs and you may want to wish for a more unique way to wish your mom a happy day.
For this reason, Holly Day has gathered three unique Mother's Day card ideas to send your mom this year.
Homemade Mother's Day Cards
The Cardmaker's Workbook: The Complete Guide to Design, Color, and Construction Techniques for Beautiful Cards
The most unique way to wish your mom a happy day is to give or send her a homemade Mother's Day card. Is there a more personalized way to show your mom how much you can than give her something you made yourself, with your own hands, from scratch?
If you are skilled and enjoy making crafts, you can create your own homemade holiday cards in a huge number of different ways. For instance, you can search on the Web for greeting card templates that you can print out and adapt to your own needs. There are many online sites that provide you with printable greeting card templates for free. They even include instructions on how to produce Mother's Day cards.
Do you enjoy painting your own designs? Then go get construction paper and paint a greeting card for your mom. The range of paintings is quite wide and you could opt for painting a portrait of your mother. You might enjoy the task so much that you could paint a few additional cards for your mother-in-law and your grandmothers.
Naturally, beyond the design of your Mother's Day card, the message included in the card is also really important. For this reason, you're going to spend some time thinking about the words of love you wish to tell your mother.
The Web abounds in Mother's Day poems and, once again, with a search, you will quickly find a nicely written poem that you can get inspiration from to write your own poem.
Another option would be to search online stores for Mother's Day card kits. Most of them come with the materials you need to create outstanding greeting cards at home as well as instructions on how to make them. Many also address to kids for them to make their own holiday cards dedicated to their loving mothers.
Whatever the design of the card you choose, a homemade Mother's Day card will always provide your mom with the most pleasant surprise.
Personalized Card Services
For those in a hurry who want to find an original Mother's Day card and, therefore, are ready to spend a little money on this, the grat alternative is the online greeting card services, such as Zazzle. These services are extremely popular and thousands of designers offer their superb designs for you to costumize your own holiday cards.
The principle of these sites is generally as simple as 1.2.3.  You choose your desired design, you type your desired message, and you follow the instructions in order to pay for the card and have the site to send them your way.
The other great advantage of such sites is that they also allow you to create  Mother's Day photo greenting cards. Here again the principle is simple: choose your desired design, upload a photo of you and your mother or a photo of your kids, personalize the text on the card  with your mom's name or yours and write your own greeting.
Zinnias Mother's Day Photo Card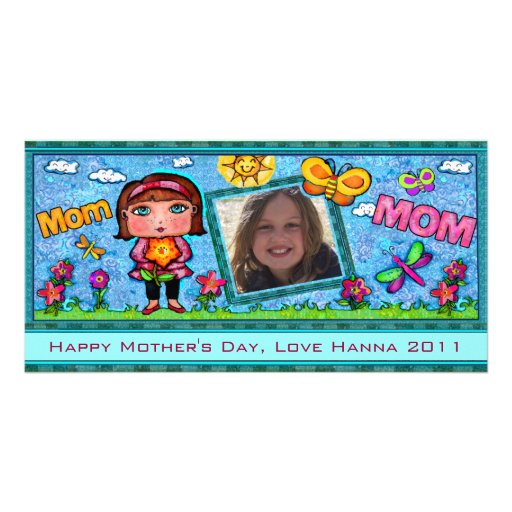 Mother's Day Custom Text Photo Card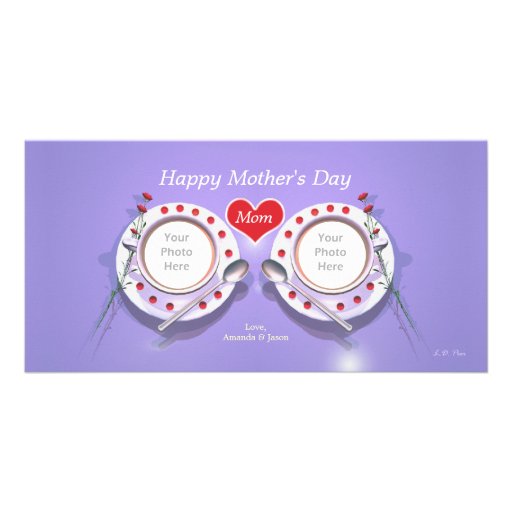 Mother's Day Tea for Two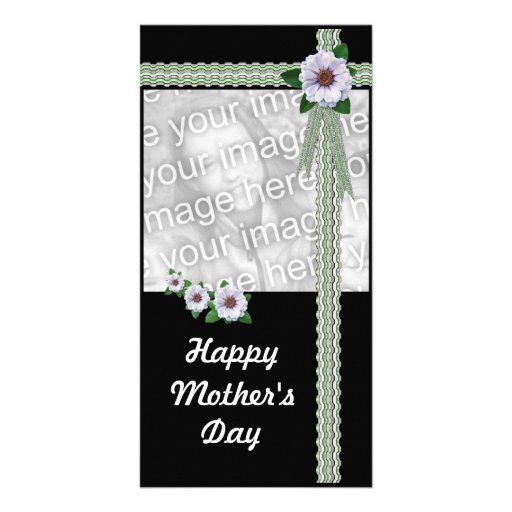 Zinnias Mother's Day Photo Card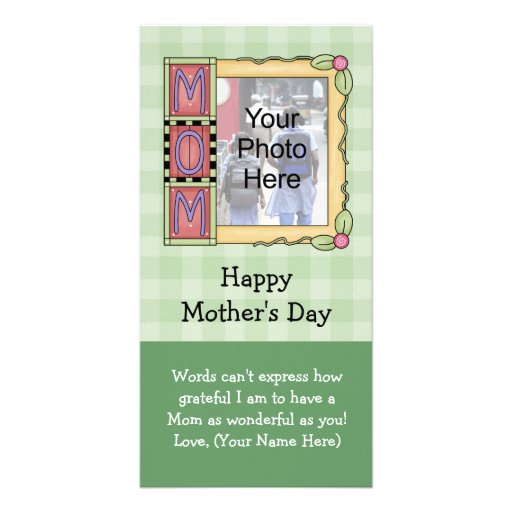 Custom Mother's Day Photo Cards

Oval Frame with Pink Check Fabric For Mum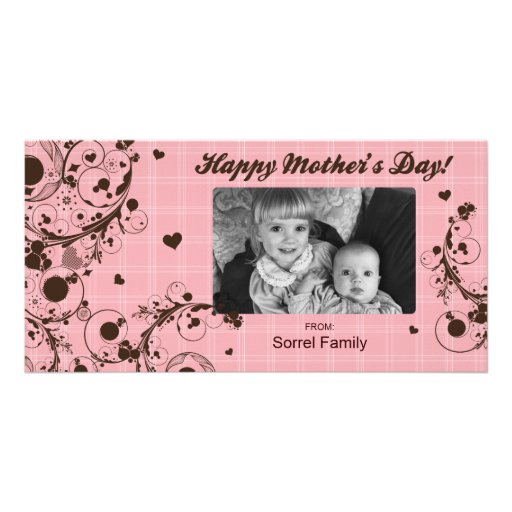 Pink Plaid Happy Mother's Day Photo Card Template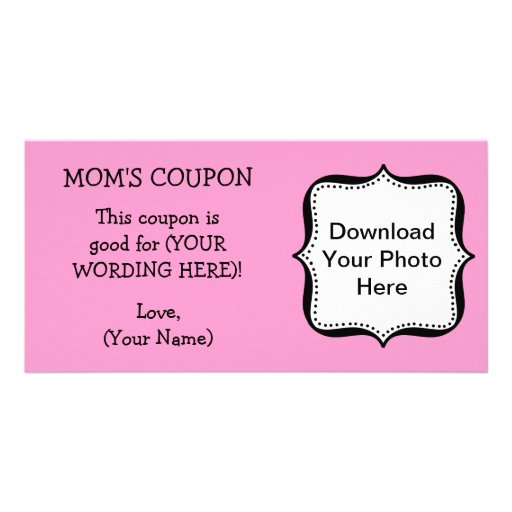 Mother's Day COUPON FOR MOM

Humorous Mother's Day eCards
While you'd be right to say that Mother's Day is a very serious holiday and that we are supposed to show our moms how much we love them and how much we care about them, we can do so on a humorous tone. Indeed, a great way to wish our mother a happy day is to send her way an  humorous e-card.
Online services such as JibJab allow you to send funny e-cards. However, JibJab isn't just an e-card service, it also allows you to add your mother's face to a special character video, for example. Whatever the scene you best like, you may end up sending a funny video of your mom dancing, singing, flying… There's a large number of different card designs to choose from and all are woth the fee they require for the use of their service.
Where to find them? Just click on JibJab.