As an Amazon Associate I earn from qualifying purchases.
Original Mother's Day gifts for expectant women
Coming up with ideas for mother-to-be gifts can be challenging. First and foremost, even pregnant women deserve to get a present on Mother's Day. However, one might not really be sure about the type of present we can get a future Mom on Mother's Day. Are these going to be dedicated to the future baby? Are they supposed to ease the future Mom's pregnancy period? Or are they just going to be personal gifts such as clothing?
Here I'm going to present a list of the best mother-to-be gifts for Mother's Day. All are suitable for all levels of relation between you and the recipient: whether your spouse, your daughter, your best friend or a neighbor. Ready? Let's go…
Mother-to-be gifts: baby cloth baskets and buckets
The most classic mother-to-be gifts for Mother's Day are the baby clothing gift baskets that you can get pre-made from the store or create yourself. They make ideal presents for an expectant Mom. Baby cloth gifts can help a future mother to save money on everyday item expenses. After all, baby layette is one of those things we need in large quantities as we sometimes may have to change a newborn's clothes several times in a day.
Whether you buy a baby cloth gift basket from the store or make it yourself, be sure to use a container that can be recycled afterwards. For example, the bucket of the featured gift basket can become a diaper can.
If you want to give a very personal mother to be gift, I suggest creating your own baby gift basket. For such a purpose, choose a useful container that you can decorate with stickers or paint with pastel colors, and select a nice assorted baby layette set that you'll arrange in the container. A Moses basket will also work wonders.

The Baby Bunch Medium Bucket Blue 0 to 6 Mont
Baby bunch bucket
It's got to be said that nowadays mother to be gift sets are really really original! One can find a large number of different gift set designs such as this elegant white bucket featuring a bouquet of layette and flowers.
Presented in the form of flowers, the layette includes a onesie, bib, hat and socks for babies from 0 up to 6 months. Clothes are made out of 100% cotton and the gift is wrapped.
When making your own layette gift basket, first make sure to match the basket color with the color of the clothes.
In this example, we're going to choose a white, green or yellow container. Then fill the container with silk paper – assorted colors, once again – and place all the clothes in it.
Put the finishing touches using a small plush toy in assorted colors as well. Transparent wrapping and a big yellow bow will secure the basket.

Baby toys are ideal for Mother's Day mother-to-be gifts
Mother-to-be gifts expectant women will love to get are those which are useful for them and will also be enjoyed by their future newborn. Here are two examples of such gifts that are sure to put on the recipient's face a big smile.
Layette sets arranged with toys make outstanding presents for expectant Moms. They are not just beautiful presents to get a pregnant woman, they are also going to be enjoyed for years. Indeed, the exquisite rocking horse featured here is going to become a good friend for the future toddler and kid. Who has never dreamed of riding a rocking horse?
Another great baby gift basket container is the famous Radio Flyer wagon. This one can be used as baby's room decoration in which the Mom would place the dozen plush toys she received as mother-to-be gifts for Mother's Day. It will also enable the grown up baby to store his toys and embark them for fun rides in the future.
White Rocking Horse Baby Stuffed Bear & Layette
Rocking horse layette gift set
The "White Rocking Horse Baby Gift Set" with plush toy and layette is a third example of a very useful mother-to-be gifts for Mother's Day. This is the perfect items to get an expectant Mom as it will serve both her and the newborn.
Once grown up, the toddler and then kid will be able to rock the horse and have a good time before bed time.
This wooden rocking horse is a wonderful baby bedroom decorating item. The white and green embroidered layette makes a great neutral genre present.
A great useful mother to be gift idea is this Radio Flyer "Beary Ballerina Baby Wagon" red wagon which comes with lots of little gifts for the baby.
The cute red wagon has four wheels and a handle that will allow the growing child to ride his toys everywhere.
The gift include a cuddly plush bear, and other baby layette and accessories. This set is available in blue color for boys as well. Make this the newborn's first legendary vehicle!

Perfect mother-to-be gifts for Mother's Day: baby care products
Because new moms like to take care of their baby's delicate skin with sweet smelling products.
Among the gifts I would have like to get when I was a mother to be, were… diapers! Before the birth of a child, we have no clue how much diapers are important and how many of them we use in the first months of our babies' lives. Moreover, diapers are quite expensive and, in my opinion, make useful and money saver gifts, more particularly now that they come in the form of tiered cakes such as the tiered baby diapers cake featured below!
Besides diapers, baby bath and skin care products make also great mother to be gifts to give a pregnant woman. Indeed, when we have children, we use and over use products such as the Mustela bath time essentials that comes with hair and body wash, bubble bath, cleansing lotion and facial cleansing cloths as well as a cute toy; or the Aveeno Daily Care Essential Basket that includes bath shampoo, and other moisture and lotions to take care of baby's skin.
How about the ever classic Johnson's Baby Essential Bathtime Set; which has proven for years to be great products for the whole family or a baby care set which would be more special?

3 Tiered Diaper Cake (Boy, Girl or Neutral)
Fantastic tiered baby diaper gift set
One of the largest expenses for future Mom as well as for a new mom relates to diapers. A newborn requires lots of them.
Therefore, one of the best mother-to-be gifts for Mother's Day to be would enjoy the most are diapers. And is there a cutest way to give her such a useful and money saver present than in the form of a tiered cake?
This exquisite tiered diaper cake comes with 32-40 diapers, receiving blankets, booties, pacifier, and more.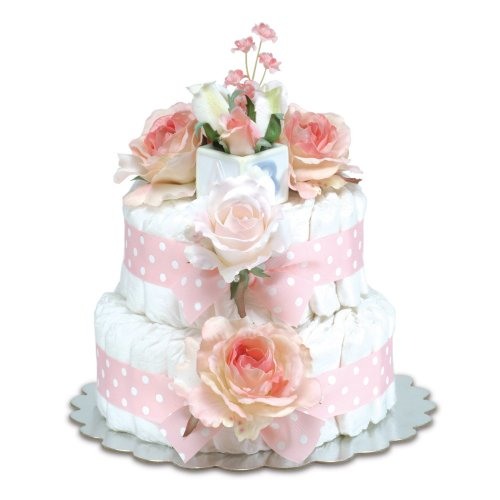 Two-Tier Diaper Cakes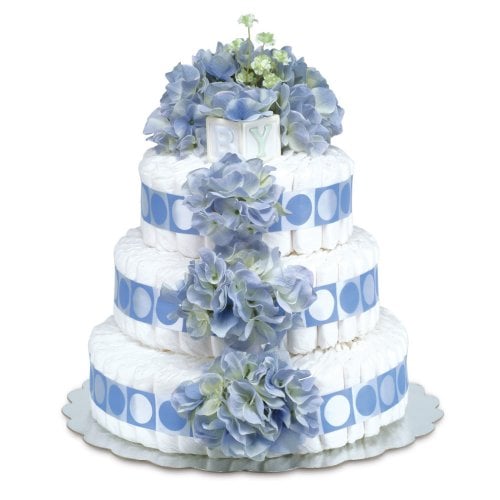 Three-Tier Diaper Cakes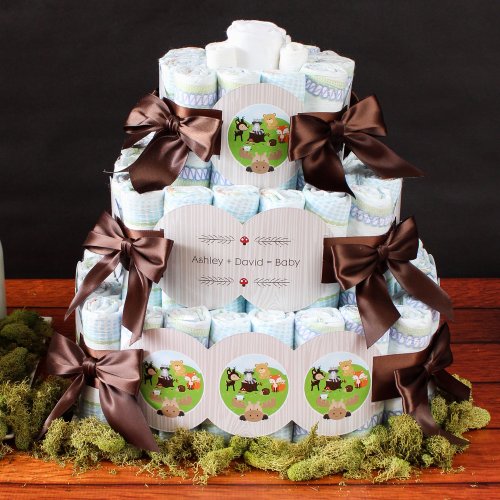 Personalized Diaper Cake
Mother-to-be baby furniture gifts
From changing table to baby crib, new moms need baby furniture…
As a mother-to-be, I remember that I enjoyed receiving an all-in-one baby bath and changing table. This enabled me to have everything on hand, nicely hidden into drawers. The table eased the process of filling and emptying the bath. Moreover, this kept me off backpain and also allowed my baby to discover water games as he could stay longer in the bath.
Another type of wonderful mother-to-be gifts is a baby dining chair. When selecting a baby chair, make sure it is strong enough to last for a few years. Mine got broken in less than one year and I had to buy a new one – I then chose a wooden chair which lasted for many years (I could pass it to my sister). I do not recommend getting a chair adorned with lots of toys. As a working mother, I know for a fact that there are many more important things to do with a baby than cleaning the chair. I would also suggest you to get a chair that grows up with the child.
A third excellent mother-to-be gift is a baby playard. Although they might look a bit odd, I enjoyed the playard for many reasons. My baby didn't sleep in the day, with a playard I could take care of all housework without fearing any kind of accident. We also had a dog:, the playard ensured my baby was safe in the house.
If your friend or family member who is pregnant works and has to bring the baby to the day care each day, a baby car seat car will certainly provide her with pleasure. The ideal mother-to-be gifts for a woman who often moves range in items such as Moses baskets or portable bassinets or cribs in which her baby will sleep during those hours out of the house. A portable swing chair will ensure the new mother to have her child to follow her everywhere she goes. Mom can thus move in the home without ruining baby's sleeping time.
The best areas to have the baby changing table are, in my humble opinion the bathroom or the baby's bedroom.
Baby changing tables come with shelves or drawers so as to always have all products on hand.
In the drawers you can store diapers, baby care products, layette.
All are safely stored and you do not have to worry about dust.
More useful baby furniture and accessories:
Primo EuroSpa Bath and Changing Center, Honey/Cream
Infant Classic Wooden High Chair, Fox and Friends
Graco Nautilus 3-in-1 Car Seat, Matrix
Fisher-Price Space Saver Swing and Seat, Luv U Zoo
Summer Infant Pop 'n Play Portable Playard
Moses Basket with Polka Dot Hood and Bedding
Baby accessories make wonderful gifts for Mother's Day
Baby accessories can make fantastic mother-to-be gifts. You can make outstanding gift baskets for pregnant mothers with a few baby feeding accessories that you buy from the store. As an example: fill a basket with a baby bottle set, a cleaning brush, a baby bottle dryer rack and even a thermos bottle that will allow the new Mom to feed her baby oustide of the house.
A present I wanted to get so bad was a baby bottle warmer! Although there were always 6 ready-to-drink baby bottles in the fridge, waking up at 2 AM to feed a baby who was desperately crying, having to warm the bottle on the stove and wait for very long minutes, was horrible. An automatic baby bottle warmer would have helped a lot.
One of the most useful mother-to-be gifts I've ever received was a baby food maker. It was lots of fun to prepare my baby's meals in this excellent machine. All I had to do was filling the recipient with the ingredients, the machine would defrost them, then blend all ingredients, cook them and in just minutes, my baby's meal was ready to serve. This is an invaluable present for any pregnant woman.
There are many more of such tools that would make a future mom happy: a baby phone, a baby camera, baby food containers, books with baby meal recipes, and much more. One thing I'd keep for another occasion is a baby cutlery set with engraved baby's name as I always enjoy giving such a set on a baby's baptism or on the baby's first birthday. I kept my child's cutlery set and even though he doesn't use it, I like knowing it is still in our household.
There is nothing in life of a new mother as having to wake up at night to feed her baby. Indeed, although the task might look not terrible, the mom has to fill the bottle, warm it and then feed the baby.
However, warming a baby bottle on the stove takes a lot of time – water has to warm before you can even place the bottle in it.
An electric baby bottle warmer, such as this The First Years Night and Day Bottle Warmer System, is one of these accessories a new mother can't do without.
The baby bottle warmer comes with night light and can hold all types of baby bottles – including food jars. Bottles needed to be purchased separately.
More baby food tools as Mother's Day gifts
Philips AVENT Classic Plus Newborn Starter Set
Tommee Tippee Electric Steam Sterilizer
Magic Bullet Baby Bullet Baby Care System
BEABA Babycook Pro 25th Anniversary Food Maker, Red
Top 100 Baby Purees
Kids Preferred Disney Baby Dumbo Melamine Set
Fashion gifts for pregnant women
Pregnancy doesn't mean that one cannot wear trendy clothes.
Maternity clothes are often overlooked when we search for mother-to-be gifts. We more likely look for items that will be useful when the baby arrives. However, there is no reason for a pregnant woman to not pay attention to her look. Sadly, maternity clothes are often quite expensive and pregnant women have many more important things to buy.
This is where giving maternity clothes comes into action. There is a wide range of pregnancy clothes to choose from and you can give the expectant woman a lovely dress she can wear at work. A nice sweater dress will be perfect for her to wear at home. If your gift recipient is pregnant during the summer period, choose a sleeveless dress. If she's pregnant in the cold seasons, opt for a long sleeved dress.
Being pregnant does not mean that a woman cannott go outside and does not need a cocktail dress. Once again, because such clothes aren't the cheapest on the market, you will help your pregnant daughter or friend feeling beautiful. Instead you can choose to give her a pair maternity pants along with matching top or a night gown which would also be useful once she will be in the hospital.
And for those who plan to go on holiday this summer, a maternity swimsuit will work wonders. Remember that a happy expectant mother will give birth to a happy baby.
Momo Maternity "Heather" Scoop Neck Striped Dress
PregO Maternity Women's Babydoll Halter Swimsuit – Medium Black
Baby Be Mine Maternity / Nursing Nightgown
Mother-to-be gadget gifts and more
Countdown Clock – PregnancyApart from baby related items, maternity clothes, baby furniture, what can you buy for an expectant woman?
Well the range of mother-to-be gifts is quite wide and you're only limited by your imagination. For example, everything that enables parents to get travel with their child is a welcome gift. From a car seat to a baby stroller. Another type of mother-to-be gifts that are sure to please are toys. Babies love playing with sound and light toys even when they're still lying in their crib.
Everything that relates to feeding babies can make it as well. For example, bibs and sterilizers will bring a smile on the future mother's face. Then pregnancy gadgets and electronics will also be welcomed gifts.
Powered by a lithium battery, the cute gadget featured to the right will enable the future mom to count the time – even the seconds – before the baby's birth. How cool is that gadget?
---