As an Amazon Associate I earn from qualifying purchases.
Perfect presents for a wine lover
For some strange reasons, finding a gift for a man is always more challenging than finding a present for a woman. So, if you live in one of those countries that are about to celebrate Father's Day, chances are that you're thinking of a gift to buy for your father or father-in-law.
However, as any other year, you know for a fact that you're going to struggle finding the perfect present to come up with on Father's Day.
Does the man you're looking a gift for enjoys wine? Then think of… Father's Day wine gifts this year!
Father's Day wine map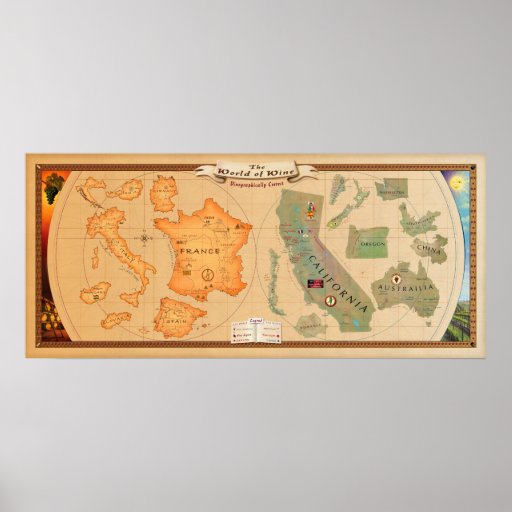 World of Wine Map Poster Print

Does your Dad like grande cuisine and, obviously, great wines? Wine is an ever appreciated beverage, for almost all occasions like holidays and special celebrations therefore it's the perfect field to explore for your next Father's Day wine gift.
Personalized wine sign
Top Seller Personalized Red Wine Bar Sign
Another one in the long list of Father's Day wine gifts, is the personalized sign.
What about giving your father a wine themed sign that he could hang to the door of his wine cellar? This will make him proud of being recognized as wine expert.
This 12-1/4 inches x 9 inches wine sign shows two vintners who are working on an old wine press and is pre-engraved with "Reserve Grand Vin" and "Cotes", leaving room for your father's name and the year you want to have engraved.
Professional corkscrew
Oster FPSTBW8207-S Electric Wine Bottle Opener, Silver
Another great Father's Day gift for a wine amateur is a professional corkscrew. There are a lot of different available in stores and the hardest task will be to select the one your Dad is looking for and will appreciate.
A good corkscrew is an indispensable tool for any wine amateur. This 4″ x 4″ x 12″ corkscrew is an electric and cordless corkscrew; which requires simple push-button operation.
Metrokane Rabbit 6-Piece Wine Tool Kit, Silver
Another best-seller is the Metrokane Rabbit Wine Opener Tool Kit. It does include a quick opener corkscrew and is made out of polycarbonate. The set does also include a foilcutter, a drip-stop ring, a bottle sealer, a wax remover and extra worm, all stored in a case.
Comes with a 10 year warranty.
Wine tasting board game
Winerd Wine Trivia and Blind Tasting Board Game
Board games are all time entertaining activities for the whole family and when they teach you something that you really like and/or care for, they're just doing better.
So, what about getting a wine game as Father's Day gift? This way you'll not just make your Dad happy but the whole family will be able to share and learn more about his passion.
The game includes almost 300 questions and answers related to wine as well as a blind taste test notepad.
Wine guide
Among the best Father's Day wine gifts, the wine guide is a great gift to get any wine lover. Make sure you select a book that your father doesn't have yet so that you can surprise him. For example, a guide to match food and wines is a good gift for Father's Day. Or else, a guide for wines of a specific region or even a guide on how to make his own wine at home might also interest him. What about a book that would teach him the kind of wine he should add to his wine cellar?
The above Wine Bible, written by a wine lover will bring you from country to another country, making you discover which wine is produced in which country and will also help you learn the specificities of each type of wine as well as their producers.
Wine gift basket
Wine Cellar Celebrations – $154.95
from: EdibleGiftsPlusCheck It out
Wine Picnic Trio – $116.95
from: EdibleGiftsPlusCheck It out
Another way to celebrate your dad is by preparing a wine gift basket. You can make a basket out of almost any container. For example, you can nicely decorate a shoe box, fill it with silk paper and add a bottle of white, rose and red wine, some crakers, cheese, and other tasteful snacks and you can come up with a very classy gift for your Dad.
If you don't have time to create a wine gift basket yourself or don't know what to add, you can obviously buy a ready-made wine themed gift basket for Father's Day. Many online retailers offer superb gift baskets filled with wine, cheese, pate, caviar and much more.
An ideal wine themed gift basket can be filled with a bottle of Cotes du Rhone (a greatly appreciated French wine), a terrine or pate (aromatised terrine of foie de volaille, for example), some foie gras or mousse de canard, cheese, crakers or biscuits. A great addition, to sweeten the overall content of this basket might be some dried fruits, like cranberries. This is an example of a great wine basket for any fine gourmet.
Be as creative as possible and you'll be on your way to get your father one of the most fantastic gifts he ever received.