How to turn your Venetian masquerade party into a bash
Carnavale week generates a lot of events. Chances are that you're going to host a Venetian masquerade party during that time. Such balls are really popular events around Mardi Gras. They are celebrated in different ways depending on the area we live in.
"Carnavale" is celebrated with a blast around the world:
The bluesy-jazzy parades of Mardi Gras in New Orleans,
The sparkling and stunning parades in Rio de Janeiro,
The beauty of the flower parades in Nice (France)
The fun of the Gilles de Binche in Belgium.
This fun holiday is celebrated worldwide. But it all began in the lovely town (actually a Republic) of Venice. We just based our own festivities on those of Venetians. Here are some tips and ideas for you to turn this event into a bash.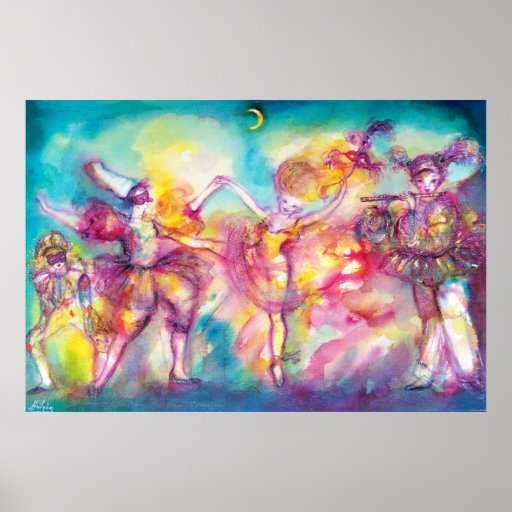 MASQUERADE PARTY,Mardi Gras Masks,Dance,Music
Prepare two Venetian masquerade guest lists
Planning a Venetian masquerade party requires you to start somewhere. Let's start with the writing of your potential guest list. Building a potential guest list. It will allow you to have an idea of the number of guests you're going to entertain.
When planning a Venetian masquerade party, you have to build two different lists. The first list will include the potential guests. The second list will be reserved to those that may help you for the party settings.
First Masquerade Party Guest List
Make sure the theme of your invitation cards match the theme of your Venetian masquerade party. Choose cards that feature a Venetian mask or Commedia Dell'Arte characters. Specify the type of costume your guests are supposed to wear. Let them know if you're going to host a dinner party or just a ball. Add an RSVP to your cards so as to know the exact number of persons who are going to attend your event.
Second Masquerade Party Guest List
This second Venetian masquerade party guest list will include your relatives, closest friends. They must be people who are skilled at organizing activities and/or theatre plays. Instead of sending masquerade party invitation cards, you're going to call them on the phone. Ask for some help in the preparation of your Venetian masquerade party. We'll cover this topic later in this page.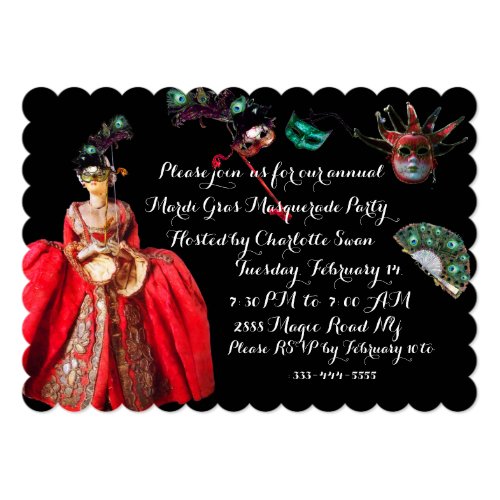 ANTIQUE ITALIAN PUPPETS MASQUERADE COSTUME PARTY CUSTOMIZED INVITATION CARDS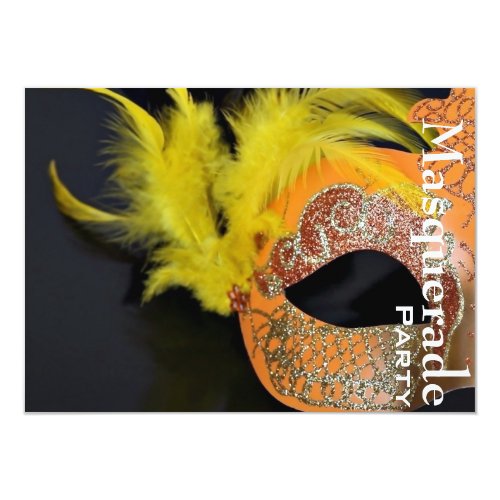 Elegant Venetian Mask Masquerade Party Invite Personalized Invitations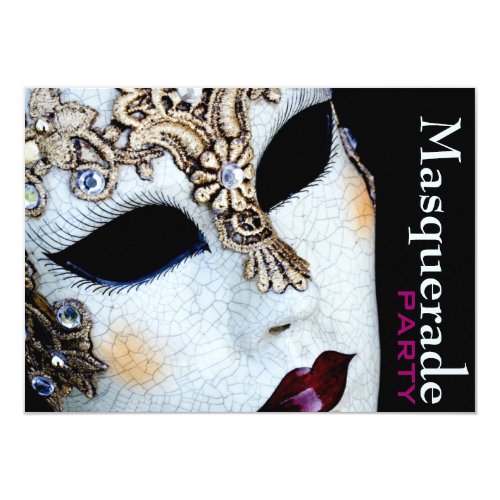 Elegant Venetian Mask Masquerade Party Invite Custom Announcements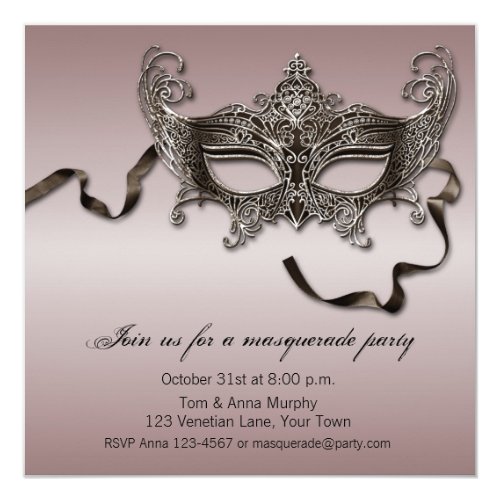 Elegant Masquerade Party Custom Invitation
Party Invitation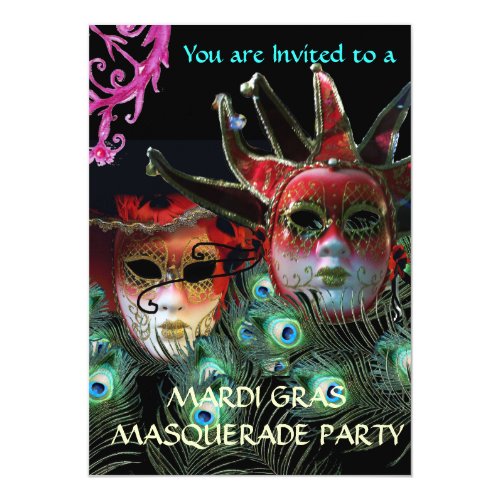 RED LADY AND JESTER MASK WITH PEACOCK FEATHERS CUSTOM INVITE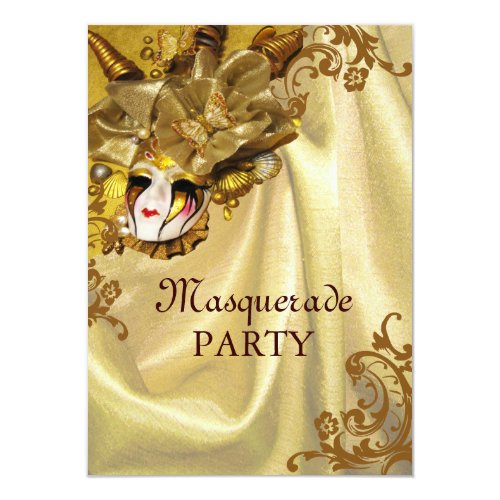 Golden Baroque Masquerade Party Personalized Invite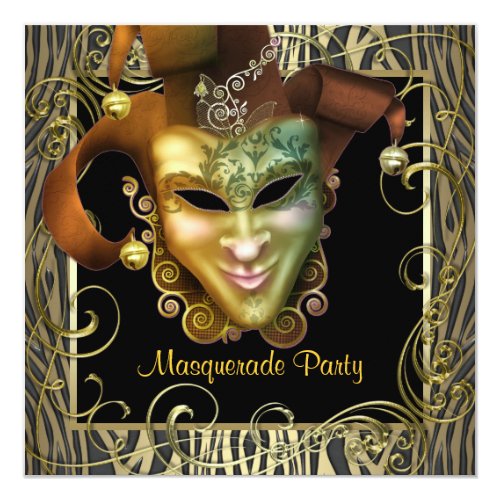 Elegant Black Gold Masquerade Party Invitations
Integrate Venice town to your party venue
So, you planned a Venetian masquerade party indoors and, problem… Venetian Carnavale festivities take place in the streets of this marvelous town. What to do? You can't seriously bring the town of Venice inside your house or the ball room that you rent for the night…
In reality, this isn't a major problem. To decorate the house or ball room for your Venetian masquerade party, you're going to ask your second guest list for some help. After all you may want to create some ornaments by hand.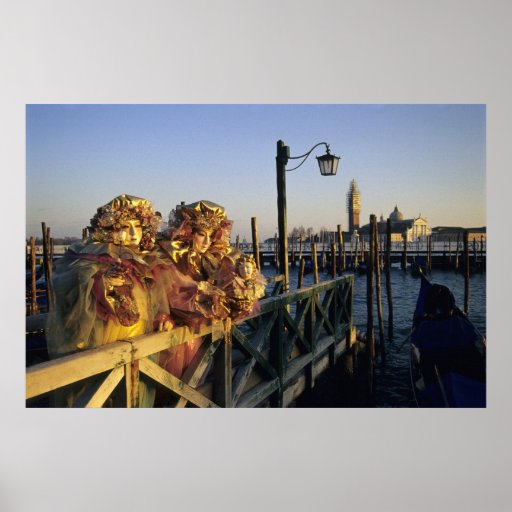 Two People in Carnival Masks, Venice (Italy)
A first Venetian masquerade party decorating idea would be to get a few Venetian Carnavale posters to pin on the walls. Venetian masks, even homemade, are also a good type of ornaments. They are easy to make and won't cost you much. You can even alternate posters and colored gossamer background; this will provide the party venue with a luxury look.
Venetian houses
A second Venetian masquerade party decorating idea would be painted Venetian buildings on big canvas. You can place them on the walls so as to create a Venetian ambiance. You can also add some arches with a gate and/or white balustrades. Place a few elegant black candelabras to provide the room with a realistic aspect. Drape the balustrades if you want. Make sure the drapes are of the same color as the dominant tone of the venue.
More ideas
You can also get a ready made Venetian decor that you just have to place on the walls. The choice is yours and will certainly depend on your budget. Just know that Venetian Carnival decorations are simple and extravagant all at once. This doesn't mean that you should use multicolored decorations. Instead, use one color but use it a lot: overuse it. "Extravagant" is the keyword.
Take the example of the baroque arch featured in one of the images below. It comes with a dominant purple color. Use this arch as party prop, and over use purple in your Venetian masquerade ball decor. Put purple gossamer on the walls, spread gold, black and purple masks in the room, use purple table cloth and napkins, gold coasters and glasses. The use of golden colored items is meant for highlighting the purple decor. Colors that work wonders for the event: red, pale blue, hot pink, yellow, lavender.
Harlequin Masquerade Mask StandeeCheck Price
Masquerade Ball Couple Blue Set/2Check Price
Masquerade Ball Large Mask HangingCheck Price
2′ White Balustrade PairCheck Price
Baroque Frame Arch PurpleCheck Price
Red Harlequin Masquerade ColumnCheck Price
Venetian masquerade party food and beverage
Decide on the type of party you're going to host. Do you want to serve food? When serving food at a party, another question appears: sit-down dinner or buffet?
The easiest way to entertain guests at dinner parties is to prepare a buffet with cold food. This won't just ease and reduce your work, this will also ease the communication between the guests. Indeed, people will be able to walk through the room all the time.
Next come the dinnerware you're going to use. The best party dinnerware to choose is a paper party dinner kit that will avoid any risk of having a cup, a glass or a dish broken and will keep you away from doing the dish-wash afterwards.
What kind of food can you serve at a Venetian masquerade party dinner?
Regarding the type of food to serve, you can shop for antipasti and other Italian delicacies in specialized stores. Antipasti can be served cold without any problem.
As for other Italian cold dishes, you can serve a Caprese salad. This consists in sliced mozarella placed on sliced tomatoes and San Daniele or Parma ham, add some olive oil, basil, salt and pepper.
Another Italian dish to serve would be sliced Parma ham and melon. Remember that, in the 17th century, pizzas weren't available yet 😉
Potluck party
That is an existential question! Seriously… Well, there are two options: the first option would be to not serve food. But… What if you still wish to serve food to your guests but don't want to spend too much money? Well, the easiest and fairest option is to host a pot luck Venetian masquerade.
A pot luck party isn't just easy to host it is also less expensive than any other type of party. Just ask your guests to bring an Italian dish as well as beverage with them to the party. All dishes will be placed on the buffet table and the drinks will go to the bar for everyone to eat and drink.
What will you do if you don't plan to serve food?
Don't want to serve food at your Venetian masquerade party? No problem, then just get a series of colored wine glasses, champagne flutes or cups, all made out of plastic to serve beverage to your guests.
Gold Glitter Assorted Cutlery Pkg/24Check Price
Paper Plate 9″ Gold Pkg/24Check Price
Gold Luncheon NapkinsCheck Price
New Purple Paper Table CoverCheck Price
Bulk Value Cups New Purple Pkg/50Check Price
When hosting a Venetian masquerade party it is necessary to plan a few themed activities. Venetian culture includes Commedia Dell'Arte comedies. So when you entertain guests at a Venetian masquerade party, you want to match the theme of your party.
Remember, some time ago, I suggested you create two guest lists? Well, here we are going to cover the reason why you built two lists of potential guests.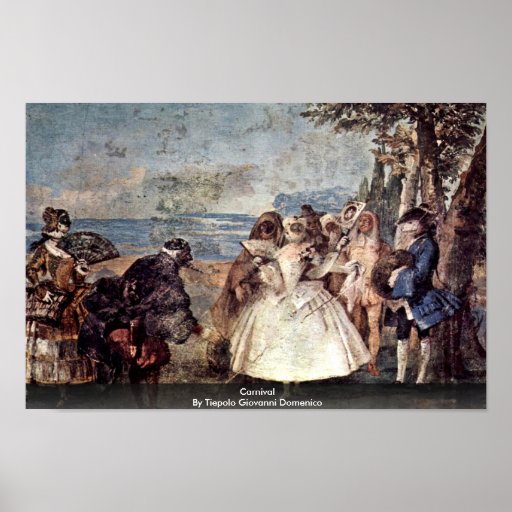 Carnival By Tiepolo Giovanni Domenico
Prepare a theater play with your friends
Apart from the masquerade ball, the most popular activities during festivities was and still is theater play. Most popular Italian actors are those of the Commedia Dell'Arte. The Commedia gave birth to the Italian comedy company in France. It is probably one of the roots of the English Pantomime as well.
Therefore, if you wish to really emphasize the atmosphere of your Venetian masquerade party, you're going to ask your friends to act in a theatre play. This isn't as hard to prepare as it looks.
The most known characters of the Commedia Dell'Arte are Pedrolino, Arlecchino and Colombina. Colombina plays with Arlecchino's heart; Pedrolino is desperately in love with Colombina and Arlecchino is the most stupid but funniest person out there. With these three basic characters, you can write a screenplay that will make your guests laugh.
Prepare a Commedia Dell'Arte quiz
You can prepare a fantastic quiz that relates to Commedia Dell'Arte and Venetian Carnival traditions. The best way to add more fun to the quiz is to turn it into some kind of Pictionary. This way, your friends are still involved in the preparation of the activities. They will play their role during the quiz. Some will act like Pedrolino, some like Brighella, Colombina, Pulcinella, Scaramuccia and others like, let's say… the Doctor Plague, one of the most popular Venetian mask and characters.
After the quiz or the theater play, the ball can begin.
Harlequin on the Moon: Commedia Dell'Arte and the Visual Arts
Commedia Dell'Arte: An Actor's Handbook
Lazzi: The Comic Routines of the Commedia dell'Arte (PAJ Books)
Set up your Venetian masquerade musical background
You surely planned modern music, such as techno, disco, rock'n roll to allow your guests to perform on the dance floor. But you can also have a Venetian musical background playing at the beginning of the party. In the past people used to eat to the sound of music and theater also included music. So here again, your Venice music can play as background. The Rondo Veneziano for example is a good choice for the occasion.
Stop playing that type of music after the masquerade party activities. This way your guests will be able to dance more modern dances.
Misteriosa Venezia
Serenissima – Music From Renaissance Europe On Venetian Viols
Venezia Romantica
One of a kind Venetian party favors
The end of your Venetian masquerade party is approaching. Although it has become a tradition during the 20th century to give guests party favors, such gifts weren't provided in the past.
But it's more fun to give your guests Venetian masquerade party favors. A first option is to make them yourself. It Is easy as pie: all you have to do is make Venetian masks out of construction paper, paper plates or plaster strips. Decorate them and give them to your guests. This will provide them with sweet memories of an old fashioned but joyful and fancy party. Option number two is getting pre-made themed masquerade ball favors. As you can see below, they can be cute mask shaped tins, card boxes, Venetian masks, and even keytags.
Who knows, next year, they might send you an invitation card for… a Venetian masquerade party they'll host as they would have learned everything about it from you.
Masquerade Key TagCheck Price
Mardi Gras Magic Mod Frame Personalized Mod Frame 4×6Check Price
Masquerade Tin Silver PeppermintCheck Price
Masquerade Exquisite Half MaskCheck Price
Masquerade Ball Playing Card CasesCheck Price
Enchanting Masquerade Mask BlackCheck Price
---