As an Amazon Associate I earn from qualifying purchases.
How to plan pirate birthday parties for your little ones
Pirate birthday parties for kids are a wonderful way to entertain little ones on such special occasions. Kids love pirates and buccaneers and the theme is also a great match for September born kids because of the Talk Like a Pirate Day holiday. Moreover, little ones love to play pirate and buccaneer games; which you surely enjoyed as a child yourself.
Here I am going to share my favorite tips for planning pirate birthday parties for kids. From the sending of pirate birthday party invitation cards to party favors to give your little guests at the and of the day, you are going to get a large number of ideas to help you get going. Pirate cupcake recipe ideas are also included in the list and can be seen here.
Pirate birthday party invitation cards
The first thing to do when you plan on hosting pirate birthday parties for kids or even any other kind of party is to make a list with the persons you invite.
If you plan a pirate birthday party for kids as well as an adult pirate party later in the evening, I'd suggest to make two lists: one with the kids you're expecting to see at the kids birthday party and one with your friends who don't have any kids; whenever you have some. The reason behind this is that you won't send a kids birthday party invite to for an adult party to grownups who do not have children.
So in order to ease the invitation process, you're going to an invite for the kids along with a PS asking their parents as to whether they'll attend the adult party (or party for everyone); which you will host in the beginning of the evening. Give the date, time, address whenever you invite some persons who never came to your house and ask your guests to dress in a pirate costume for more fun.
Next will be your invites for adults without children: send them another type of pirate themed invitation card.
Remember to add an RSVP to all invitations so that you know the number of guests who will attend both parties; this will allow to ease the organization process.
Now that your invitation cards are sent, you can plan your parties separately.
Pirate birthday party invites for boys
Pirate kids birthday party red white stripes card

Pirate Party Boy Birthday Black Red Invitation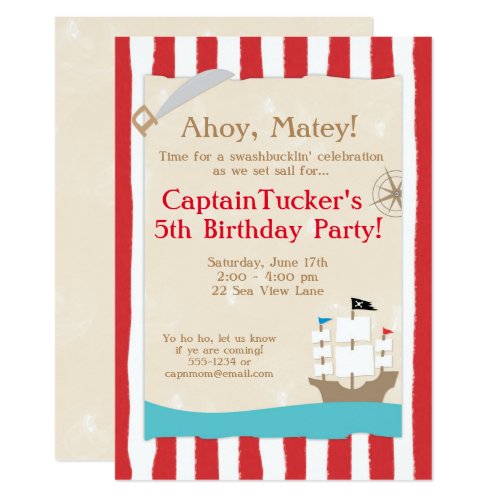 Pirate Birthday Party Invitations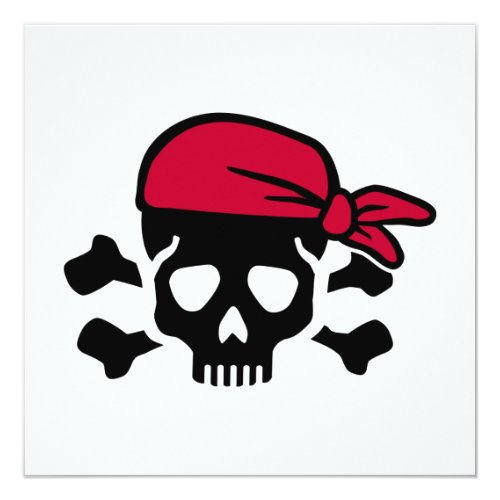 Pirate skull card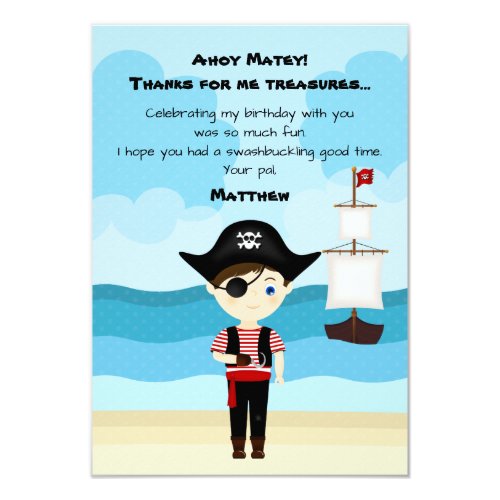 Pirate Boy Card

Pirate and Treasure Birthday Party Invitation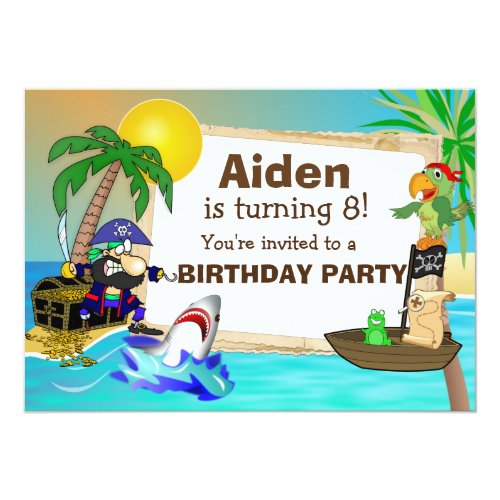 Personalized Pirate and Shark Birthday Invitation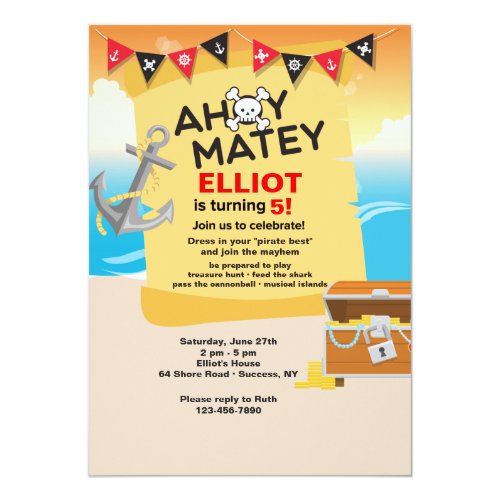 Ahoy Matey Pirate Invitation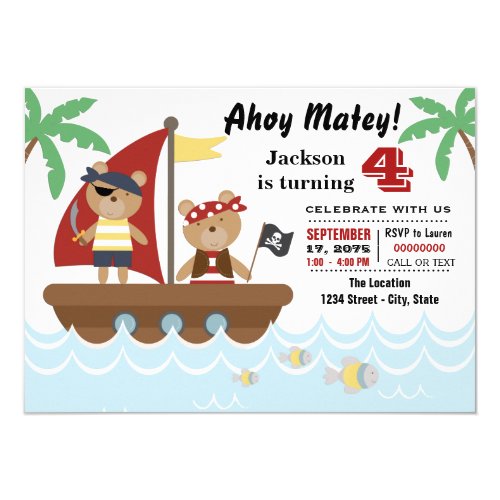 Boys Pirate Bear Birthday Party Card

&
Pirate birthday party invitation cards for girls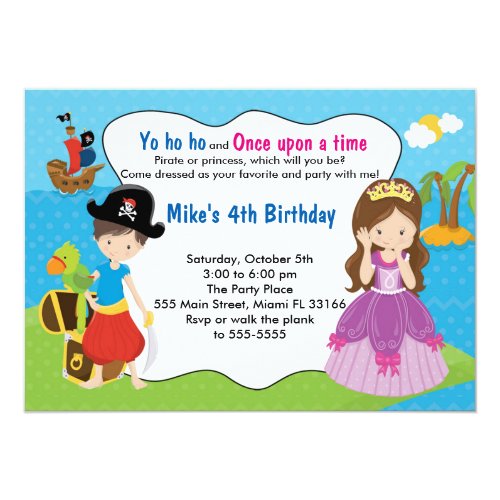 Pirate Princess Invitation Boy Birthday Party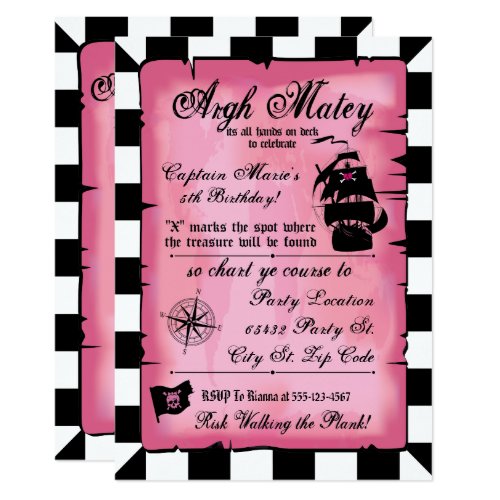 Pirate Princess Birthday, 5×7 Invitation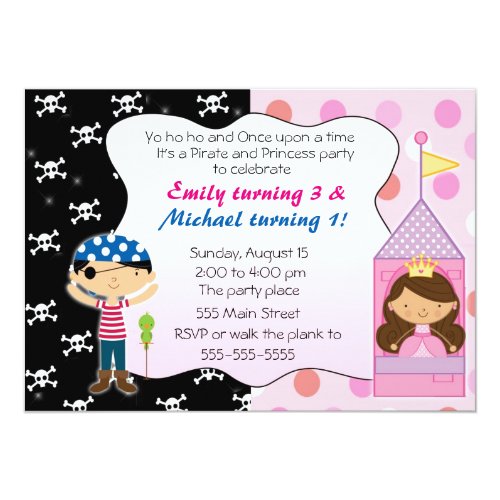 Pirate Princess Kids Birthday Party Invitations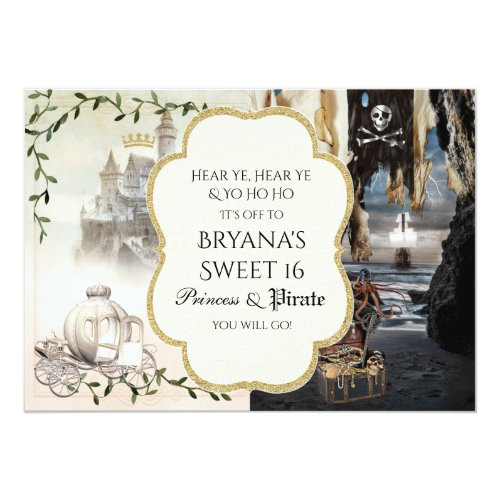 Princess & Pirate Elegant Party Invitations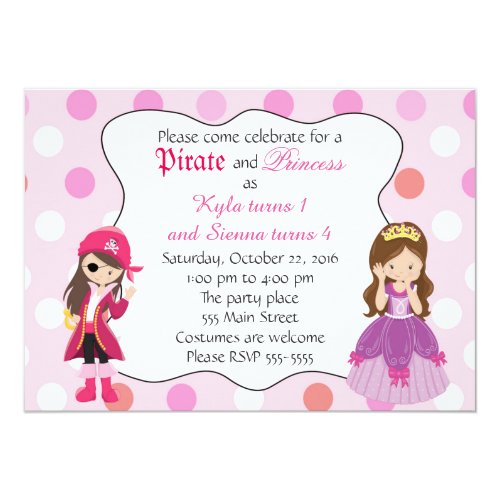 Pirate Princess Girl Birthday Party Invitation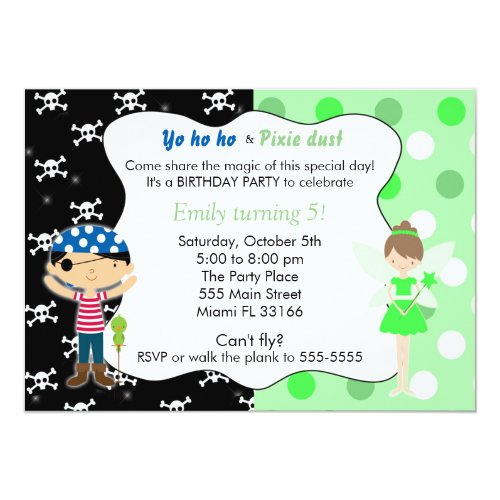 Pirate Fairy Birthday Invitation Lime Green Skulls

Pirate Girls Birthday Party Card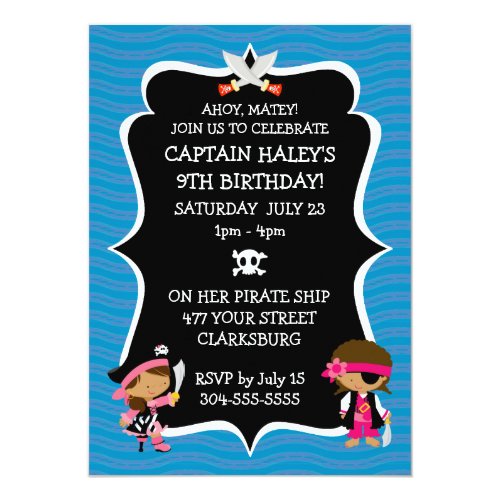 Ethnic Girl Pirate Birthday Party Card

Blond Girl Pirate Birthday Party Card

&
Tips for pirate birthday parties for children
Depending on how old are the kids who will attend your pirate party, and if they're in an age when they still need an afternoon nap or not, you're going to plan the party between 1 PM and 4 PM.
The youngest the kids, the shortest will be the party as they're getting quickly tired.
In any case, you're going to decorate the home for this party.
If you're on a budget, a Pirate birthday party set along with pirate party favors an a birthday pirate themed pinata will work wonders. However, if you have enough funds, you're going to decorate the rooms where you hold the party as well; this helps set the ambiance and you can keep them as they are for the party later in the evening.
Nowadays, retailer merchants do things very well, so you can get sets designed especially for pirate birthday parties for kids and related to the genre of your kid: there are party sets for girls and party sets for boys.
Preppy Pirate 3D Ship

Personalized Pirate Ship

Jake and the Neverland Pirates Danglers

Pirate's Map Foil Balloon

Jake and the Neverland Pirates Scene Setter

Pirate Boy Personalized Banner

&
Pirate party supplies conceived for boys
Pirate Personalized Party in a Box
Do you celebrate your son's birthday today? Get him a dark pirate themed party set.
What's included in this pirate party set?
You decide but a standard pirate party supplies for boy package would include themed plates, forks and spoons, paper cups, matching napkins and table cover.
In addition, you would find a personalized centerpiece, party favor boxes and fillins, 1 banner, thank you notes and envelopes.
The decorations have also been covered and would include: curling ribbon, colored balloons made out of latex and also one foil balloon that is themed, crepe paper, etc. Kids would obviously be not forgotten with masks.
Pirate party supplies designed for girls
Pretty Pirates Party – Party Packs
Does your daughter enjoy growing today and is she already a fashionista?
In the event you're planning to host a pirate party for your daughter, I suggest to get a girly pink pirate party set.
You can decide yourself the kind of products to be added to this adorable Pretty Pirates Party supplies.
Most of the time, such party packs include:
1 table cover
Dinner and dessert plates
Paper cups
1 Assorted cutlery set
1 Themed foil balloon
Colorful latex balloons
Assorted ribbons
Colorel crepe paper rolls
1 banner
Party favor & boxes
Activities for the kids and more.
Pirate birthday party favors
Party favors are a must nowadays and you can find cute pirate party favors for boys and girls. Those are boxes that you give your guests at the end of the party; which serve as "souvenir" that kids can keep and play with at home after the party.
Pirate party favors for boys
Pirates Party Favor Box
These party favor boxes for boys are designed like treasure chests. Boys will love them, for sure.
It is a tradition to give guests a little something so that they can get back home with a gift to cherish and enjoy for long. Stores have made easy for us to offer different party favor boxes already filled with goods…
Give each attendee a pirate favor box filled with:
Pirate themed stickers,
The ever popular eye patch,
2 temporary tattoos,
1 pirate ring made out of rubber
1 pirate telescope
Pirate party favors for girls

Pretty Pirates Party – Party Favor Box
Pirate party favor box for fashionista girls! To stay in the party decorations and party set tone, get the girls who attended the pirate birthday party these lovely pink pirate themed party favor boxes.
The favor box is filled with:
1 blowout
Themed stickers
1 cute pink pirate patch,
1 pirate earring made out of plastic
A pirate telescope
And a lollipop.
Planning pirate party activities
Plan a pirate treasure hunt
A great way to take pleasure from pirate birthday parties for kids is by planning some pirate treasure hunt.
Planning such a game is quite easy: if you run a search on the Internet, you're going to find sites which provide treasure maps that you can print out or you can even get one from an online store; which you can personalize afterwards.
Spread a few clues throughout the house, and locate them on the treasure map with crosses as you don't want the kids to know the answer before they started to guess what the clues would be.
For example, you can place as many pirate tattoos as there are kids in the living room, once they discovered the tattoos, they should try to find the second clue, some pirate hats, for example, then the third one and so on until they get to the treasure chest.
What could the treasure be? What about a pirate pinata you would have placed in the garage?
The first kid arrived is the one who will have the advantage to beat the pinata and all candies and gifts will be divided between all kids.
Hold a pirate costume contest
Another great way to bring the fun to your pirate birthday party for kids would be to hold a pirate costume contest.
Each guest should vote for their favourite pirate costume – not theirs, of course – and, since you're a sweet heart, all contestants would win a prize in the end.
The kind of prize all kids will certainly enjoy is a bubble gumball machine that they will bring back home and cherish forever!
With the Pirate Bubble Gumball Machine you will revive the pleasure of using coins to get those gumballs, just turn the crank and get the balls. Gumballs aren't included in the machine (6 oz.) and should be bought separately. Turn the crank and gumballs roll out.
More pirate birthday party activities
When it comes to finding activities to do on pirate birthday parties for kids, the possibilities are almost endless.
Check the weather before hosting such a party and if its quite sunny and hot, fill the backyard pool with water or get an pirate inflatable activity park and let the little ones enjoy the pleasure of water games.
Once again, if weather allows outdoor activities, get a pirate themed sandbox from which the kids will take a lot of pleasure!
Another option would be to teach the kids how to talk like a pirate. They certainly will take joy in learning a new kind of vocabulary! This activity is one to which adults may take part, though.
Whatever your birthday party activities, with a pirate theme, you make sure to have a strong theme and one of the most entertaining birthday parties ever.
Pirate Bay Inflatable Combo Water Park
Pirate Ship Sandbox
Little Tikes Deluxe Anchors Away Pirate Ship with Umbrella
---